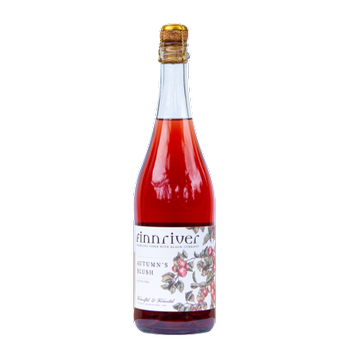 Autumn's Blush 750ml
STYLE: Sparkling Cider with Pink Hue
AROMA & FLAVOR: Crisp undaunted acidity, layered earth tones, and a lighthearted sweetness to bring it all together.
APPLE VARIETIES: Fermented on the farm with a select blend of Certified Organic Washington apples, organic black currants.
CIDERMAKER NOTES: Sometimes known as "Autumn's Blush," we've relabeled this favorite for the Spring, reflecting different seasons on the land. This spring, you will see it out in the world as 'Spring Bloom'. This Cider is inspired by a fondness for rosé hues, this cider honors a Finnriver tradition of mixing the french-style Kir cocktail and blends the lines between trees and vines. Autumn's Blush begins with a select blend of high acid apples, fermented bright and dry, then infused with a kiss of organic black currant to add depth and a pink hue. The beauty of Autumn arises when the orchard blushes with the promise of the harvest to come. Cage and cork finish in 750ml format. Made without gluten ingredients.
SERVING SUGGESTIONS: Versatile off-dry profile is great for a wide medley of foods! Enjoy in the glass as the sky turns crimson at sunset or with a savory brunch on a Sunday morning.
SWEETNESS: Demi Sec-Off Dry
ALCOHOL PERCENTAGE: 6.5% abv
BOTTLE VOLUME: 750 ml.
ARTWORK: Sarah Peller