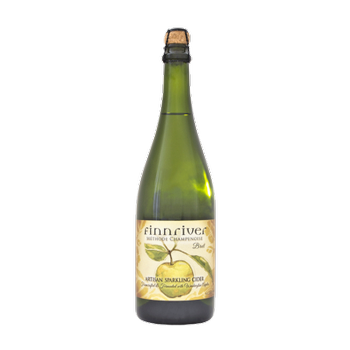 Artisan Sparkling 750ml
STYLE: Artisan 'Champagne style' Sparkling Cider
AROMA & FLAVOR: A bright, dry cider with an effervescent apple bouquet, tart elements of the orchard, and a crisp, clean finish.
APPLE VARIETIES: Organic Washington heirloom, dessert apples, primarily high-acid varieties such as Granny Smith.
CIDERMAKER NOTES: Crafted in the méthode champenoise. This cider is fermented first in the tank and then undergoes a secondary fermentation in the bottles, after which they are placed inverted in traditional, angled wooden racks for 'riddling,'a process that clears the cider of residual yeast. Each bottle is turned individually, lightly shaken, and repositioned every day until the sediment forms a plug resting against the cap. To disgorge, the bottles are chilled, the caps removed and the sediment that has settled in the cap is forced out by the pressure within the bottle.
SERVING SUGGESTIONS: Serve chilled in a champagne flute and use for a unique toast at your finest occasions. Makes an elegant apéritif before a meal and a refreshing palate cleanser; lovely with seafood and sharp cheeses. Add a splash of Finnriver Black Currant Wine for a variation on the classic French 'Kir Royale.'
SWEETNESS: Brut
ALCOHOL PERCENTAGE: 8% abv
BOTTLE VOLUME: 750 ml
ARTWORK: Anna Daeuble