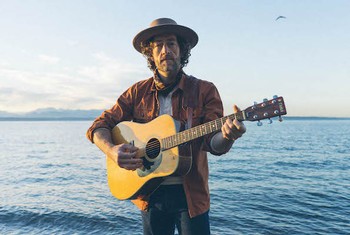 Alex Dunn Trio - Americana / Folk-Rock, Friday June 18th 6-8pm
Americana / Folk-Rock
Reformed commercial fisherman and singer-songwriter Alex Dunn stakes his claim as the latest in a long line of hard-worn men and women making Americana music in the Great Northwest. On his debut LP "Scattered Poems," Dunn explores his reflections on the many lives he's led, from his youth along the border of Colorado and Wyoming to the quiet moments aboard commercial fishing vessels in the remote waters of Southeast Alaska, where much of the album itself was written. Melodic sawdust and salt air, Scattered Poems breathes with a sense of place, yet is imminently accessible and speaks to the universal.
You can reserve a 3-top ($25), a 4-top ($30), a 5-top ($35), or a 6-top ($40) table. ('Top' refers to number of people per table). Note that the Phase 3 guidelines now in effect do not limit the number of households that can be represented at an individual table.
We have missed having musicians here so much and are delighted to welcome back the good cheer, cultural creativity and vital human energy of live music!
Join the Alex Dunn Trio on Friday, June 18th from 6-8pm
Please note:
Cancellation policy - for a full refund, please request cancellation to

orders@finnriver.com

by Friday 10am.
Special requests? Please click the checkbox "Add special instructions" upon checkout.
If a pre-purchased table is empty 30 minutes after the event has started, Finnriver has the right to resell the table to another person/group.
Weather permitting, we welcome walk-ins at our yard seating at no cost.
Event is Sold Out
Walk-ins welcome, as available